Book Publication by Gary Inman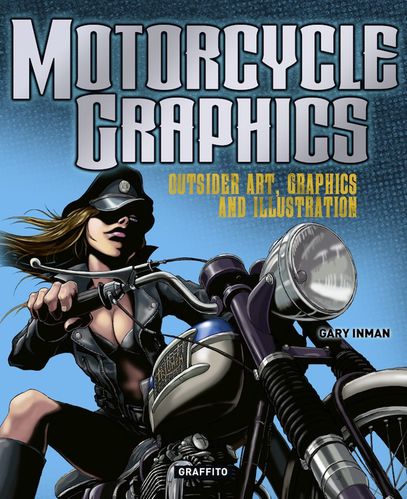 Après quelques mois sans nouvelles et maints échanges depuis un an...Je viens de recevoir un message de Gary Inman (SIDEBURN Magasine), m'informant qu'il publie très prochainement son livre, ..."jolie couverture".
il y aura quelques une de mes illustrations et y a dressé mon portrait.
Ecrire un livre à l'air d'ètre aussi long que de préparer une Ducati finalement :-)
Dans son ouvrage, il fait les Bio d'une trentaine d'Artistes contemporains qui gravitent autour du monde moto avec chacun leurs univers et leurs styles ...
parution GRAFFITO book
plus d'info : http://www.graffitobooks.com/publication/MOTORCYCLE
I just received a message from Gary Inman (SIDEBURN Magazine)
He will soon publish his book with some of my conceptual illustrations and draw my portrait.
he presented contemporary motorcycle artists with many different worlds and styles ...
"MOTORCYCLE GRAPHICS
THE MOST COMPLETE COLLECTION OF CONTEMPORARY BIKE ART EVER COMPILED, BY LEADING OUTSIDER ARTISTS FROM THE US, UK, EUROPE, AUSTRALIA AND JAPAN.
CHOPPERS, ROAD ROCKETS, GREASERS, CAFE RACERS, DIRT TRACKERS AND CONCEPTUAL CREATIONS. EVERY TRIBE, SUB-CULTURE AND SHADE OF EMOTION WHICH FOUR-STROKE FREEDOM MACHINES INSPIRE IS REPRESENTED.
INCLUDES ART BY WILL BARRAS, DIRTY DONNY, ADI GILBERT, STEFAN GLERUM, PHILIPPE GUREL, CONRAD LEACH, LEVIATHAN, ANTONIO MERINERO, RAULOWSKY, LENNARD SCHUURMANNS, TOKYO GUNS, CARBY TUCKWELL AND MANY, MANY MORE BRILLIANT ARTISTS IN THE GENRE....
THIS IS THE ART THAT CAPTURES THE DREAMS AND REALITIES OF EVERY MOTORCYCLIST IN THE WORLD.
256-PAGES HARD-BACK, WITH FOILED AND EMBOSSED JACKET.