Exagérer les proportions pour viriliser la bête .
Difficile souvent de concilier électricité et performance sur route. Pill est un concept électrique musclé conçu pour le dragster.
Un style ramassé simple et des proportions semblables au « Dodge Tomahawk » ou divers Showbike racer trapu, comme la « cosmodrike » de « Garage 65 ».
Le châssis carbon englobe la batterie et fait office d'assise et de carénage, l'empattement dépasse les 1m60 et les jantes sont en 19 ''avec chacune un moteur indépendant.
La marque YAMAHA car le style futuriste et la technologie se rapprochent des petits concepts EC-F et EC-Fs du Tokyo Show 2009.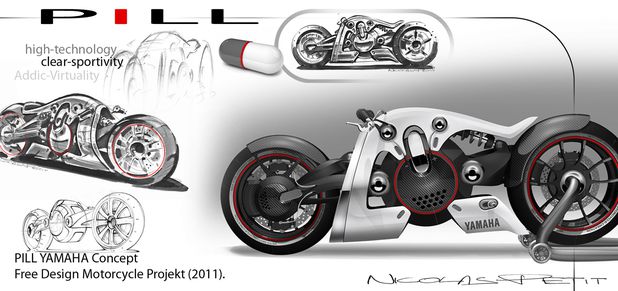 Proportions Exaggerate for virility the beast
Difficult often to reconcile electric power and performance on road. Pill is a muscle electrical concept designed for the drag racing
A simple style picked and proportions similar than "Dodge "Tomahawk" or various Racer ShowBikes as the "Cosmodrive" of "garage 65"
The carbon chassis includes battery and serves as seat and chassis, the wheelbase exceeds 1 m 60 and rims are in 19 "with each independent engine,.
The YAMAHA mark because the futuristic style and technology have similarity with little concept EC-F and EC-Fs from Tokyo show2009.